EDFA amplifier (Erbium Doped Fiber Amplifier) itself emits radiatively in a signal band using excitation energy supplied to it by photons in a pump band when stimulated by incoming photons in the signal band.
EDFA Erbium-doped Fiber Amplifiers
We provide different kinds of EDFA: 1) EDFA - Bench Top Single Channel 2) EDFA - Bench Top High Power Single Channel 3) Metro EDFA (Mini-sized Module 4) EDFA for DWDM 5) EDFA for SDH 6) EDFA - Multifunctional 7) EDFA Multifunctional
Reference of EDFA:
-What is EDFA? A Word Definition.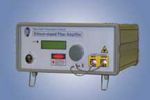 © Opto-Link Corporation Limited 2002-2012. All Rights Reserved.