The METRO ERBIUM-DOPED FIBER AMPLIFIER (MEDFA) series EDFA is designed for single-channel or narrow band amplification. It is a low-cost optical gain module in a very robust and compact package providing amplification of optical signal for a variety of applications. It can be used as pre, in-line or power amplifier over a wide temperature range.
An electronic control circuit is integrated inside the module. The compact module can be operated either in Automatic Gain Control (AGC) or Automatic Power control (APC). Fast transient suppression and gain compensation are available on request.
The MEDFA series EDFA offers superior performance with high output power, low noise figure, small power consumption and excellent stable characteristics.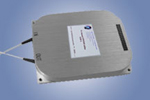 -Metro Erbium-doped Fiber Amplifiers-
Excellent gain flatness
Low power consumption
Low noise figure
Compact size
Good performance to price ratio
Metro networks
Access networks
Parameter

Performance

Unit

Operating Wavelength

1530~1565

Input Power

-10 to +4

Output Power

+10

Noise Figure

< 6 (@1550nm, 0dBm Input, 10dBm Output)

Reverse ASE Leakage

< -20

Output Pump Leakage

< -30

Return Loss

Input

> 40

Output

> 40

PMD

< 1.0

PDG

< 0.5

Power Dissipation

< 2

Operating Temperature

-5 to 65

ºC

Storage Temperature

-40 to +85

Dimensions

90 x 70 x 15
OLMEDFA - [Amplifier Type] - [Wavelength] - [Output Power] - [Pigtail Type] - [Connector Type]
Amplifier Type
Code
Wavelength
Code
Output Power
Code
Pigtail Type
Code
Connector Type
Code
Boost Amplifier
B
C-band
C
10dBm
10
900μm buffer
90
FC/APC
FA
In-Line Amplifier
L
13dBm
13
3.0mm cable
3
FC/PC
FP
Pre-Amplifier
P
15dBm
15
SC/APC
SA
17dBm
17
SC/PC
SP
* Opto-Link Corporation Ltd reserves the right to make changes to the products described herein without notice.

© Opto-Link Corporation Limited 2002-2012. All Rights Reserved.